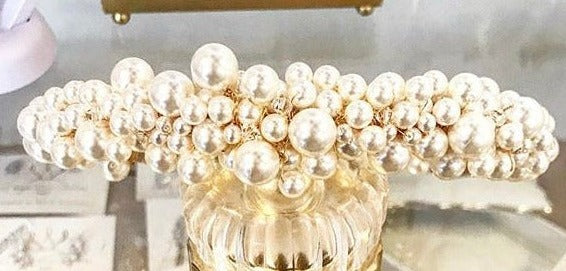 Pearly pearl wedding headband
The basic of the future bride: discover our pearl headband, entirely embroidered with brass wire pearls and high quality pearly pearls of different diameters. A meticulous work of several hours To dress your hair with delicacy a classic chic and created using the method of haute couture houses. Our wedding headband is entirely woven by hand using a traditional technique revisited by the designer: embroidery and weaving in brass wire. These pieces were made in limited quantities and are created on demand to make unique pieces for a unique day.
This beaded wedding headband measures 4cm wide.
This headband model is available in three gildings: white, yellow or pink gold plated and white pearls.

We can change the beads on request or make this model in different sizes.
Once your order has been placed, it will be shipped within 10 working days in a pretty branded box.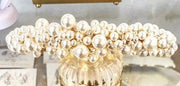 Pearly pearl wedding headband