Golden bracelet in stainless steel and Swarovski ® crystals
€21,45
Regular price
€42,90
Our collection of casual bracelets is online, discover our creations all made by hand: 3 in number, all different but with a similar thick mesh.
The bracelet of the brand in golden stainless steel is adorned with Swarovski® crystals: a square crystal of 5mm in diameter with AB crystal tone, a crystal top of 6mm in diameter with AB reflections, 6mm Swarovski ® drop crystals, and d a bohemian crystal star. A bracelet reminiscent of one of the first jewels that the designer wore during her childhood: a family jewel.
Each of the bracelets has been created in a unique way and in a very limited series: a rare and exceptional jewel, handmade in Paris, the Swarovski crystals being in limited edition and not found since 2017.
The bracelet has an extender and the brand logo to identify the brand's jewelry.
Made in Paris with love: design by Le Temps d'une Walima®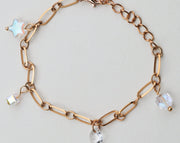 Golden bracelet in stainless steel and Swarovski ® crystals

€21,45

Regular price

€42,90