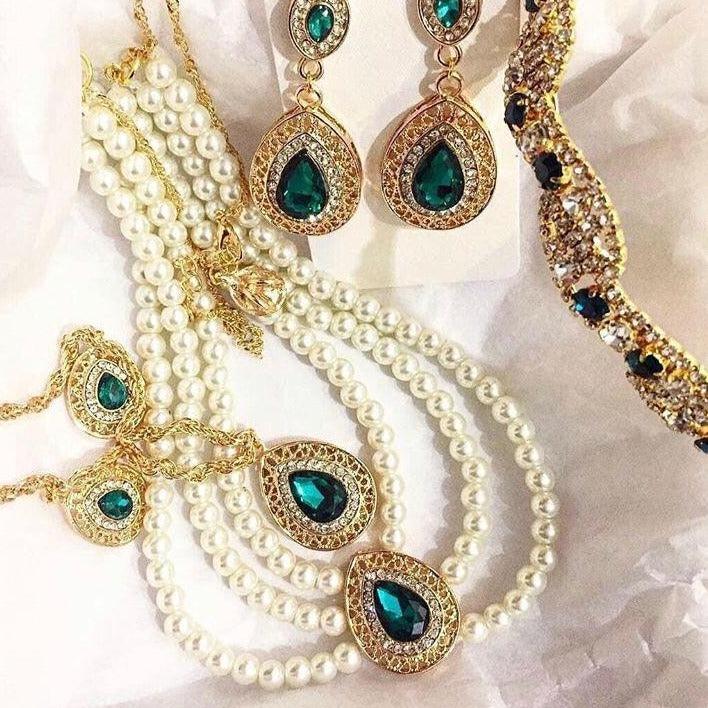 Oriental wedding adornment jewelry box for green and gold caftan
€179,90
Regular price
€250,00
Discover our emerald green and gold caftan jewelry ideal for the henna ceremony gathered around a wedding box.
The Henna collection is made up of the brand's best-sellers and each of them is handmade in our Grand Paris workshop. All jewelry is a creation and design of the brand.
These jewels will be perfect for your henna ceremony and with a green and gold caftan.
It will be delivered in a white box with the name of our brand and a duffel of our brand ready to offer and ideal for the bride's trousseau;
The latter is composed of 4 pieces in yellow gold plated, green rhinestones and ivory pearls:
-A golden Tasnim tiara set with Swarovski emerald green rhinestones (unit price: 79.90)
-A pair of emerald green and gold earrings (unit price: €27.90)
-An ivory pearl necklace made up of 3 rows of pearly glass pearls and an emerald green Henna rhinestone pendant with extension to wear it in different lengths (unit price: €69.90)
- A twisted knit Henna forehead jewel composed of 3 pendants (unit price: €29.90)
All delivered in its box and ready to offer at the price of €169.90 instead of €207.6, i.e. a saving of €37.70.
This box is available in creation on demand within 24 working days and can be personalized in various colors: estimate to be made in the custom creation section.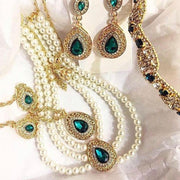 Oriental wedding adornment jewelry box for green and gold caftan

€179,90

Regular price

€250,00